- entertaining but informative presenter and writer on the world of wine
Guy Boursot
Wine Presenter & Writer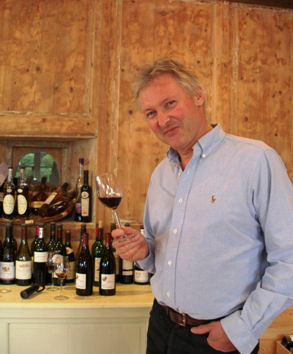 A British professional wine presenter and writer
Who speaks with Humour and Presents with Passion
Who speaks English and French
Who has vast experience in the wine business
Whose family has been involved with the production of wine for 400 years
Whose family still has vineyards in Burgundy
Contact details:
Guy Boursot directly on +33 676 10 32 41 or e-mail guy@boursot.com
TESTIMONIALS
"I have known Guy for many years, and invited him to speak and present at an exclusive Champagne Dinner at The Bath Spa Hotel. The whole event was a huge success; his choice of Champagnes to match the food, his presentation and talk through each wine with each course was interesting and entertaining, so much so that I had several requests for Guy to return. Guy's success is in his knowledge and passion for wine generally, and his ability to hold an audience with humour and tuition in equal measure - it makes for a memorable event. I have no hesitation in recommending Guy."
Service Category: Wine Consultant/Speaker
Top Qualities: Great Results, Personable, Expert
"I am receiving thank you notes almost on the hour and you have been listed in one as "hard to beat". So consider yourself congratulated.
With renewed thanks for your professionalism and easy style."
CF - June 2012
"I hope you enjoyed the evening as much as we did. In fact I had emails from some members who were all impressed (5 star presenter was one phrase) and it is most unusual to get such feedback."
BW - Feb 2012
"I have to say that you gave today one of the very best presentations I have ever heard. You enraptured everyone with your passion, knowledge and easy style - you even managed to hold the interest of those in the audience who do not drink wine! Many, many congratulations on a wonderful achievement."
RB - October 2011
"It was a nicely informal event and Guy hit just the right note with his information about the wine - we all thought he did it extremely well, interesting but not preachy, not everyone has the knack of this but he does."
DD - July 2011
"Quite apart from your knowledge, you clearly have a passion about sharing that knowledge in a very digestible manner."
U3A Bookham - March 2011
"Your presentation on Monday was a triumph and a great hit with members. Thank you so much for coming all the way across (or under) the icy Channel to give it. We had never done anything like it before and you could see how much everyone enjoyed it. You wear your expertise so lightly that I don't think it was until much later that people realised how much they had learned from the evening. Thank you very much."
The Silver Society - December 2010
"Thank you so much for your masterful presentation last night. Everyone thoroughly enjoyed it and the wines we tasted were delicious and very good value I thought.... I hope we may be able to do something similar again - I thought it was a good way to entertain clients on an informal basis."
JB, Wilsons Solicitors - November 2009
"Thank you so very much for the excellent wine-tasting last Thursday... It really was an excellent and most instructive talk, and we would love to have you back."
King's School, Canterbury - October 2009
"Thank you so much for coming to our Society - people are still talking about how much they enjoyed the evening... both for the quality and range of Burgundy wines to taste and the relaxed and knowledgeable way in which you presented them to us (indeed, it was so thorough that there really weren't too many follow up questions)."
CML (President of Bacchus, Oxford University Wine Society - March 2008)
"The reason why we ask Guy back year after year to talk to us is that not only does he have a genuine knowledge and passion for wine which will become self-evident when you hear him speak, but he also talks in straightforward language that we can all relate to and understand."
The Royal Society of Chemistry October 2002
---